In the summer of 2005, with the objective of ongoing expansion, the GMO Internet Group entered the finance industry to add a third business area to our existing two business segments, Internet infrastructure and Internet media. Two years have passed since then and it is with much regret that we have decided today to withdraw from the loans and credit business.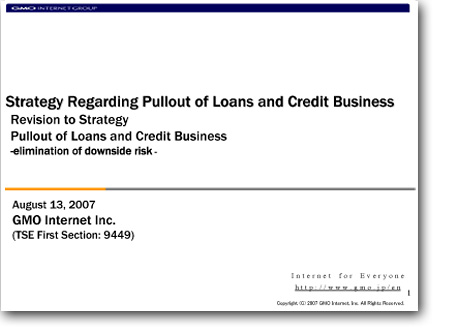 As has been reported on television and in newspapers, there have been changes in the credit and consumer finance external business environment. The industry is confronted with difficulties arising from factors including reforms to moneylending laws, interest repayment issues, and changes to the accounting guidelines released on October 13 last year by JICPA (Japan Institute of Certified Public Accountants). In our loans and credit business, we implemented every counter measure we could think of in the face of these radical changes, including increasing capital and entering into capital partnerships. However it remains unclear what external influences are yet to hit the industry. In consideration of this, despite the resulting temporary loss we have decided it is in our best interests to pull out of the business.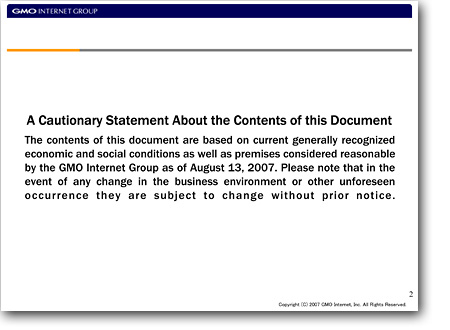 At 7:00pm on August 13, in a meeting room at our head office in Shibuya, Tokyo we held a strategy briefing for analysts and institutional investors. In order to make the same information available to our individual investors, I am posting this explanation on my blog.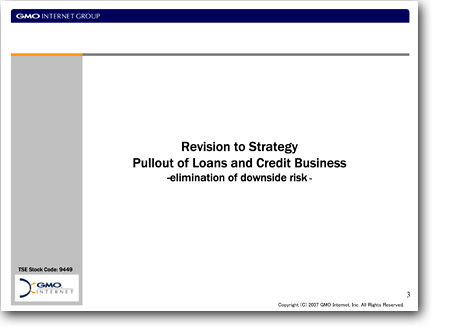 The following information is presented almost exactly as I explained it at the strategy briefing. Please take the time to read through it. (Click on presentation slides to enlarge them)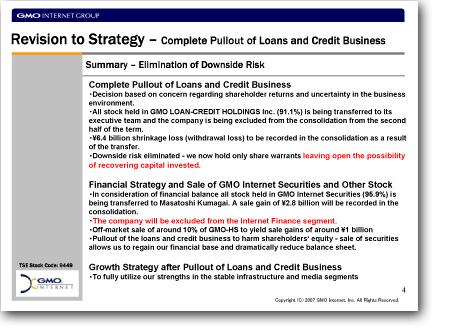 This is a summary of the series of disclosures we have made on August 13. Due to future uncertainties in the business environment we are completely withdrawing from the loans and credit business. This will be achieved through a management buyout and will result in a withdrawal loss of 6.4 billion yen. We will cease to hold any stock and in the second half of the current term it will be excluded from the consolidation.
We will however hold share warrants and as a result we eliminate downside risk while leaving open the opportunity to recover capital investment.
Total losses from the pullout of the loans and credit business amount to 18.5 billion yen. At the interim closing consolidated shareholders' equity had temporarily fallen to 600 million yen; however as of today it is confirmed that shareholders' equity has already been restored to 3 billion yen. Allow me to explain.
Firstly, in consideration of financial balance, I will be acquiring all shares in the consolidated subsidiary GMO Internet Securities. As a result of this transaction GMO will record a sale gain of 2.8 billion yen in the consolidation.
Effectively the group has ceased finance segment operations.
In addition, while maintaining its status as a consolidated subsidiary we are selling part of stock held in GMO Hosting & Security Inc. boosting shareholders' equity to 3 billion yen. At this stage the finance segment balance sheet is being severed from our own, achieving a major balance sheet reduction.
This decision allows us to focus management resources on the infrastructure and media segments and to maximize the unwavering strengths of the two businesses.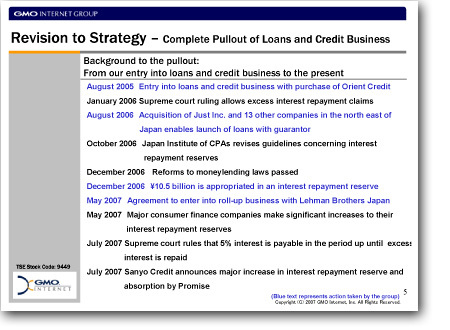 Here is a brief explanation of the background to our decision to exit the loans and credit business starting from our entry into the industry.
In August 2005 we entered the industry with the purchase of Orient Credit Co. Ltd. After this we successfully improved the use of technology and steadily built synergy with our other net businesses.
However, stemming from a Supreme Court ruling regarding interest repayment claims, the JICPA revised guidelines concerning interest repayment reserves. JICPA announced that companies should reserve an amount that would cover several years worth of interest repayments and last fiscal year we reserved a significant amount.
This year, in response to changes in the industry environment we revised our loan portfolio, entered into a joint venture with Lehman Brothers Japan and pursued other strategic measures. However as interest repayments by other major players in the industry further increased and the Supreme Court ruled that 5% interest be paid on excess interest amounts, there appears to be no recovery in sight for the industry and a continuing downside risk.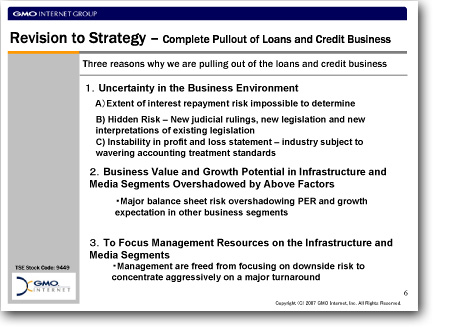 There are three major reasons why we have exited the loans and credit business.
The first is that the future of the industry remains unclear. Particularly in consideration of the following three factors;
A)The full extent of the interest repayment risk cannot be determined.
B)It is unknown as to what further risks will arise from future judicial rulings, legal reforms or interpretations of current laws.
C)Income accounting is unstable as actions in the industry like the appropriation of an interest repayment reserve are subject to changing accounting treatment policies.
The second reason is that these factors are harming the business value of our growth businesses, the infrastructure and media segments. In other words, these major balance sheet risks are overshadowing business value in our original businesses healthy PERs and growth potential.
The third reason is that downside risk having been alleviated, management will be free to focus aggressively on pursuing a turnaround and resources can be concentrated into the infrastructure and media businesses.
That is the background to our withdrawal from the loans and credit business.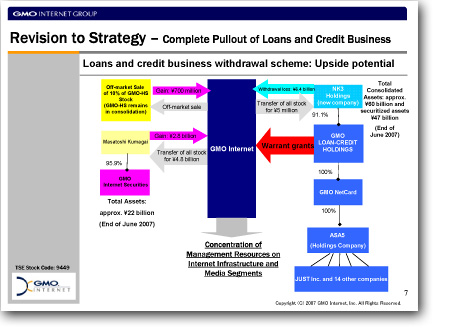 Next I will explain the withdrawal scheme.
In the diagram above, on the right you can see losses incurred as a result of the withdrawal and on the left you can see transactions that will ensure a profit and boost shareholders' equity.
In regard to the loans and credit business withdrawal shown on the right, all shares held in the subsidiary (91.1%) will be transferred to the current management for 5.28 million yen in a management buyout. As a result of this transaction, shrinkage of 6.4 billion yen will be recorded in the consolidated interim financial statement. Including this transaction, the impact in the current interim term of losses in the loans and credit business will be approximately 18.6 billion yen.
While we will hold no physical shares, we will acquire warrants that will allow us to see a return on investment if the business turns around and the external environment improves.
The withdrawal from the loans and credit business will damage our shareholders' equity and for this reason we are taking rapid action to ensure it's recovery. These transactions are shown on the left of the diagram.
I am acquiring GMO Internet Securities for 4.8 billion yen and this will result in a sale gain of 2.8 billion yen in the GMO consolidation. In addition, we expect the partial sale of GMO Hosting & Security to yield a 700 million yen sale gain. In order to minimize impact on share prices this will be an off-market transaction.
We have absolutely no plans to sell any further stock in consolidated subsidiaries.
Under this withdrawal scheme our Internet finance segment ceases to exist allowing us to focus management resources on the infrastructure and media businesses.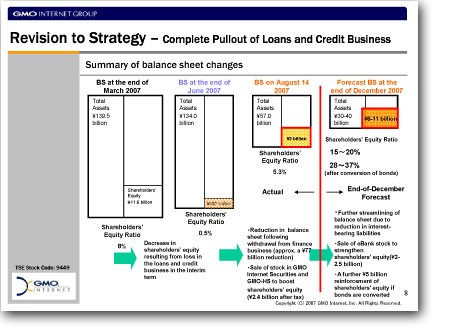 Moving on, let's look at the current state of our balance sheet and our balance sheet forecast.
In March of this year our consolidated balance sheet showed total assets of 139.5 billion yen, consolidated shareholders' equity was 11.6 billion yen and our shareholders' equity ratio was 8%.
In the current interim financial statement we record a loss as a result of withdrawal from the loans and credit business and although it is only temporary, shareholders' equity has fallen to 600 million yen.
However on the current balance sheet total assets have been reduced by 77 billion yen following the exit from the finance business and the sale of stock will boost shareholders' equity by 2.4 billion yen. The result is Total assets: 57.0 billion yen, Shareholders' equity: 3 billion yen, Shareholders' equity ratio: 5.3%.
Further, by the end of December this year we expect consolidated shareholders' equity to reach 11.0 billion yen after the sale of eBANK Inc. stock yielding up to 6.0 billion yen and the conversion of convertible bonds.
We also expect to reduce interest bearing liabilities in investment cash flow and to shrink total assets to between 30-40 billion yen. These actions could potential lift our shareholders' equity as high as 37%.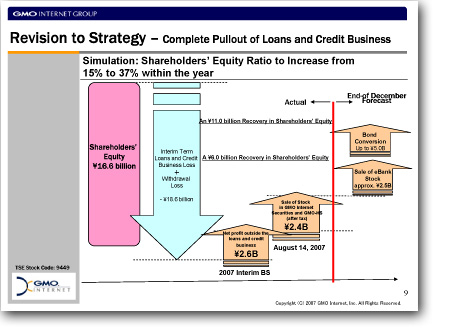 I'd now like to look at these balance sheet changes form a shareholders' equity perspective.
Prior to the interim financial statement, shareholders equity stood at 18.6 billion yen. An increase in profit of 2.6 billion yen as a result of a tax asset and other factors has led to fall in shareholders' equity to 600 million yen.
At this stage, profit has increased by 2.4 billion yen after tax following a swift sale of stock.
We expect the future sale of eBank stock and conversion of bonds to further improve shareholders' equity.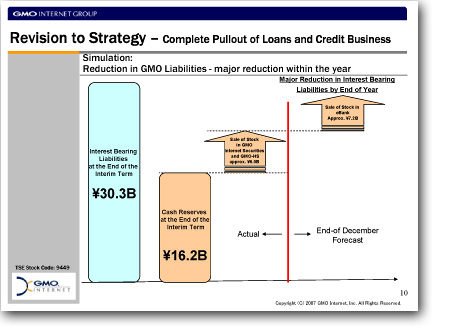 Here is a scenario of a reduction in GMO Internet interest bearing liabilities. Interest bearing liabilities currently stand at 30.3 billion yen. Cash on hand stands at 16.2 billion yen. We expect the August sale of stock to provide around 6 billion yen in investment cash flow.
The planned sale of eBank stock this year will provide a further 7.2 billion yen in investment cash flow and interest bearing liabilities will be dramatically reduced.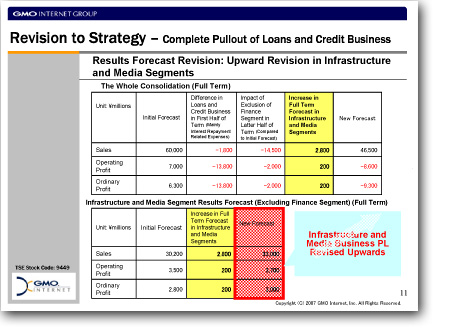 In regard to the revision of forecast results, in the loans and credit business during the current interim term there was an increase of 14.0 billion yen in interest repayment associated costs. Following the exclusion of the loans and credit and securities businesses from the consolidation, sales have fallen by 14.5 billion yen. Profit has also fallen by 2.0 billion yen however this decrease is in line with our initial projection.
However in the GMO Internet growth businesses, the Internet infrastructure and media segments sales have been revised upwards by 2.8 billion yen and profit has been revised upward by 200 million yen.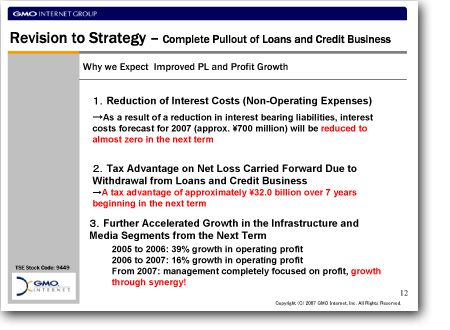 Next I would like to explain three points regarding improvement of Profit and Loss and profit growth after withdrawal from the loans and credit business.
The first point is, beginning in the next term we will see a major reduction in interest costs.
In 2007 interest costs stood at 700 million yen however as a result of a reduction in interest bearing liabilities in the current term we expect interest costs to be almost zero in the next term.
The second point is that over the next seven years we can expect a huge tax advantage due to a 32.0 billion yen net loss carried forward following withdrawal from the loans and credit business.
The third point is that we believe a focus on the infrastructure and media segments from the third term will result in a further acceleration in growth.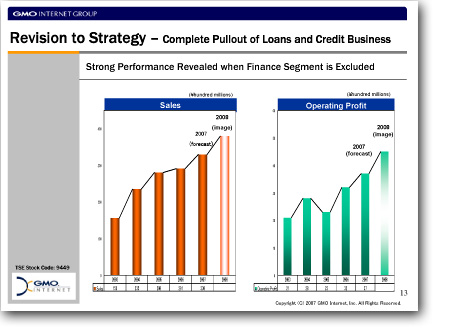 This is an image of profit and sales after withdrawal from the loans and credit business; it shows movement by fiscal year in the infrastructure and media segments only. As you can see from past performance and current projections there is steady growth in the two segments. The 2008 bar is an image of sales and profit.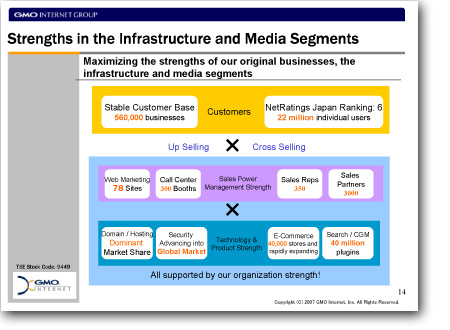 The exclusion of the finance segment will not have a major impact on the infrastructure or media segments.
Our strengths are;
・We have the technology and product development strength to have been able to create almost all of our services from scratch.
・We have the sales power of an extensive network of sales partners in addition to our own web sites, call center and sales representatives.
・This is all supported by a tenacious organizational strength.
・And more than anything else, we are supported by the customers that use our services every day.
From this point on we are returning to our roots and maximizing our strengths. At the same time as the "Internet Department to Japan" we continue to provide overwhelmingly superior services and most importantly to make our customers smile.
You will see a strong GMO emerge!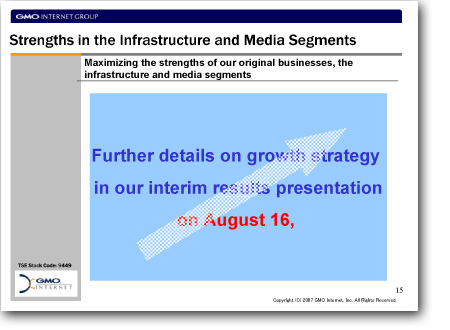 An analyst and institutional investor briefing on our interim results will be held on August 16. The presentation slides will be available as usual on our investor relations web site. (http://ir.gmo.jp/en/)
Group Strategy 2007 has also been updated. If you are an investor interested in our group please take a look.