Japanese | English
Profile
(November14, 2023)
Official Profile
Masatoshi Kumagai
Born in Nagano Prefecture on July 17, 1963. Blood type: O.
Founder, Chairman, and Group CEO,
GMO Internet Group, Inc.
[License] Helicopter & Airplane Pilot / Motorcycle Driver License (unlimited) / Car Driver License for middle size vehicle / First Class Small Vessel Operator / PADI Rescue Diver
[Hobbies] DJ / Wine / Ski / Art / Kimono / Making many people smile
――Leading the GMO Internet Group, which is comprised of 106 Group companies including 10 listed companies, some of which are listed on the Prime Market of the Tokyo Stock Exchange (TSE). The number of partners (employees) is 7,396 (as of the end of September 2023).
――Founded Voice Media (currently, GMO Internet Group, Inc.) and was appointed as President and Representative Director in 1991. In 1999, the company became the first "Independent Internet Venture" to be listed in Japan.
――Under the corporate slogan "Internet for Everyone" GMO Internet Group comprehensively develops Internet Infrastructure, Online Advertising & Media, Internet Finance, and Crypto assets businesses.
Internet banking business, which professes to be a tech bank, has been launched in July 2018.
Partners will unite to comprehensively develop Internet businesses by creating new Internet culture and industry, dreams, and excitement, and striving towards contributing to society.
――Main awards won by Kumagai include Nikkei Venture's "Venture of the Year 1999" (2nd place for the category for IPO) won in 2000,
Newsweek's "Super CEOs (10 innovative businessmen from around the world)" in 2005,
Keizaikai's "38th Keizaikai Outstanding Businessman Award" in 2013,
Zaikai's "58th Zaikai Award & Businessman Award" in 2016,
Kigyoka Club's "19th Entrepreneur Award" in 2017,
and Keizaikai's "46th Keizaikai Special Award" in 2022.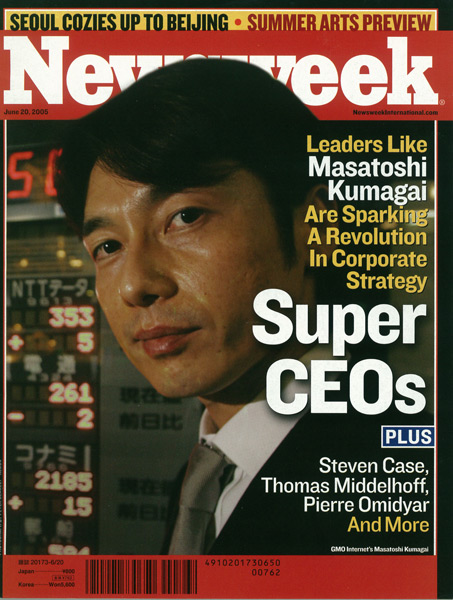 -―In addition to work, I realized dreams that I wrote in my diary one after another, which were related to health, spirit, education and private life.
Air: private pilot certificate for helicopter & airplane
Sea: permit of first-class boat's operator and PADI's qualified rescue diver
Land: medium vehicle class 1 license, heavy motorcycle license.
I am aiming to acquire an instrument flight certification with a small HondaJet to operate the Gulfstream G650ER, a large private jet.
* "I decided to fly" Season 2: my path to acquiring a private jet pilot certificate. Airframe to be operated and methods to make dreams come true.
https://www.kumagai.com/?eid=8920